St. Luke's United Church of Christ in Lititz, PA has been faithfully serving God for over 112 years! The church began on December 1st, 1907 when the Reverend H.H. Spahn offered Holy Communion to 29 people. The congregational meeting after the service voted to organize into St. Luke's Reformed Church.
In 1934 it became St. Luke's Evangelical & Reformed Church and in 1957, when the Evangelical & Reformed churches merged with the Congregational Christian Churches, it reflected the new denomination by becoming St. Luke's United Church of Christ.
The present church building was dedicated in 1968.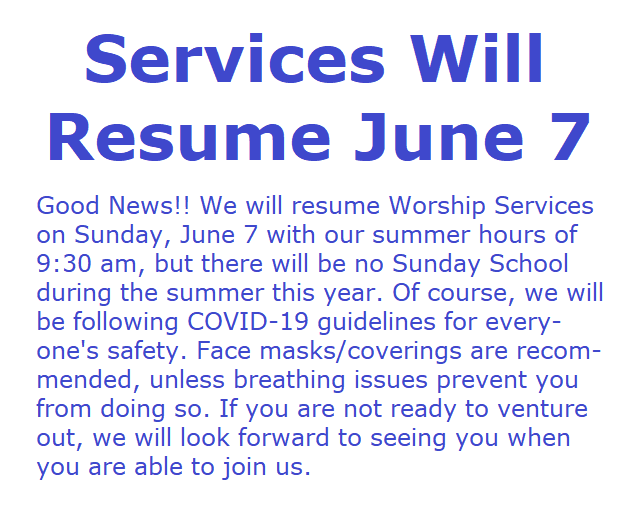 Pastor's Message
How wonderful that this Church family takes its name from Luke, "the Beloved Physician," and follower of Jesus the Great Physician!  As the world can bruise and wound us, it is such a joy to find encouragement and wholeness here in this place of healing.  St. Luke's is a small but mighty community of faith, where inter-generational really means something.  We are enthused about our worship, our teaching ministry for all ages, and our service to this dear community.  (After ten years of ministry our "Lunch with Luke" Wednesday free lunch is serving over one hundred each week!)  Here at St. Luke's, "We Worship — We Welcome — We Serve," and we invite all to be a part of this vibrant family of faith.
Rev. Jim Haun
Pastor
Called to serve, Pastor Jim delights to tell the Good News of Jesus Christ, and to bring all the encouragement he can to this often discouraging world.  Jim is a graduate of Millersville State College and holds graduate degrees from Gordon-Conwell Theological Seminary in South Hamilton, Massachusetts.  He has served congregations in Ohio and Pennsylvania, and has always been active in denominational and local ministries.  He and Kay, his dear wife of thirty-nine years, have four sons, two grandchildren and another on the way!  His interests include barbering (see you at the Spring Festival hair booth), refinishing furniture, skating, the NFL, and of course, time with his family.
Ms. Karen L. Umberger
Director of Music Ministry
Karen has served as Director of Music Ministry at St. Luke's since 1989, currently providing service music on organ and/or piano for all worship services and events. During her tenure she grew the choir program from one to four choirs, and now directs the adult choir and handbell choir. She has served as organist and choir director for area churches since 1969.
She received a Bachelor of Music degree in Sacred Music, summa cum laude from Lebanon Valley College in 1988. Karen has served the UCC Penn Central Conference as General Synod Delegate, and as Conference Organist/Choir Accompanist or Choir Director for a variety of Penn Central Conference activities.
She also enjoys sharing her gifts with local communities including being the accompanist for Loser's Summer Choral Reading Session and Community Music Institute Recitals, Lebanon Valley College, and commencement Organist/Pianist for Annville-Cleona High School for ten years. A private piano teacher since 1979, she currently teaches at Lititz Academy of Music and Lebanon Valley College Community Music Institute; and is Director of the Lebanon County Choral Society (LCCS) Youth Chorus. Karen lives in Annville, Lebanon County, with her daughter Michelle, grandson Will, dogs Toby and Ranger, and house bunny Thumper.
Ms. Mary Anne Pendi
Secretary
Mary Anne has been with us since December 2018. She brings with her years of experience, strong organizational skills, and a sense of humor to help her though the myriad of tasks a church secretary faces.
Consistory
The governing body of St. Luke's is the congregation. The congregation elects a consistory, made up of four elders, six deacons, and a youth representative, to administer the day-to-day operations of the church.
The 2020 Consistory includes (left to right) Abby Musser, Diana Rollin, Amy Adams, Judie Drummond, Barbara Garner, Abby Dodds, Wendy Musser, Carol Zerbe, and Sandi Whitson. Not pictured are Jeff Garner and Gwen Story.